About Me.
It's been one of my greatest joys in life to teach and share my passion for all things process and art making. Once upon a time, I was a kindergarten teacher. Now I teach online classes to thousands of women. Sometimes, I wonder if there is much difference between the two. So many stop making art at 5, but I get to remind them of their inner kindergartener.
I have been teaching online since 2015. In 2017, I started teaching on my own platform after learning about Teachable. Since then, I have successfully launched over 34 courses! I think what I love most about teaching technique and process through online courses, is that it forces me to think outside the box and innovate my process for creating. I thrive thinking about new ways to go about creating. I love taking my passion for innovating my process and sharing it with all of my students. There is something magical that happens when I put a draw on my creativity to teach. Nothing compares to how this puts me into a state of creative flow. It allows me to tap into my creative gifts in a powerful way. Teaching gets me out of myself and serving others!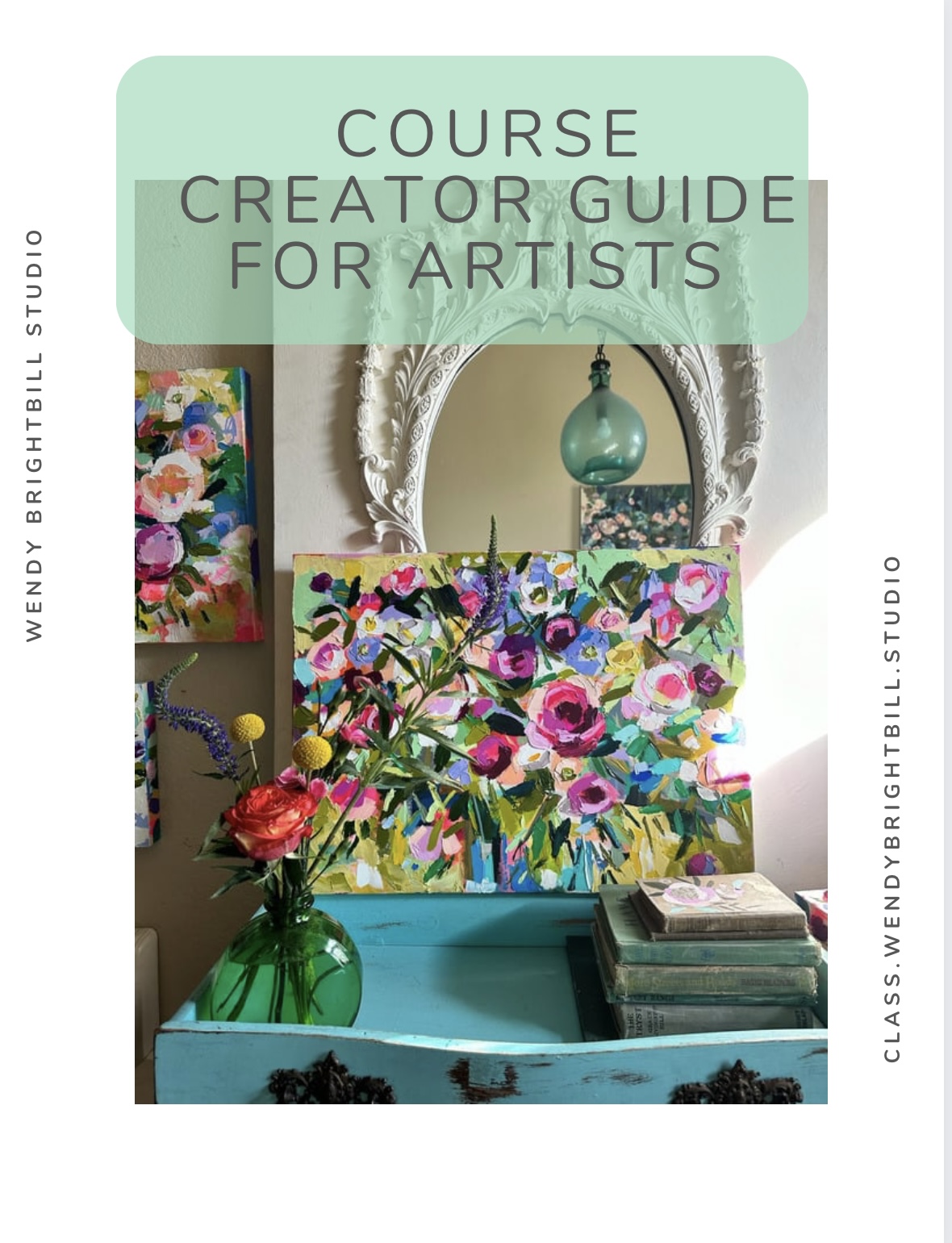 Included Inside!
This is an extensive interactive guide/ workbook designed to get you into action and launching your online course. It's basically an inside look at my own systems for putting out a course. It's not perfect, but I hope that it saves you some time and frustration. I am constantly learning from my mistakes and finding more efficient ways to launch a course. I invite you to find the systems that work best for you. But I hope this guide is an inspiration and jumping off place.
Here are a few of the things covered in these 131 pages: course essentials (what you need to start), the foundation, what to teach, brainstorming course ideas, market research, planning, course outline, where to teach, how to start recording, setting a timeline, videotaping must haves, the editing process, writing a course description, supply lists, promotional photos, the sales page, writing your bio, finishing details, marketing tips, teaching LIVE, offering bonus content, launch day, community support, and building your platform. So pretty much everything I know about launching an online course!
Inside this beautiful guide, you will also find many workbook pages for you to print out and fill in yourself. I have included timelines, planners, questions and brainstorming pages. Download and get started now!