Class Starts April 27, 2020!
Why is abstract painting important work? How do you make a deep emotional connection with your work? How do you find your own rhythm and language when you sit down to paint? How does painting help you move through grief or healing or growing pains? How do you know what needs to come out of you?
Abstract painting is unique, in that, it removes the need to be anything. There is so much more freedom to explore a theme that is calling to you. You must connect with your work on an emotional level to some degree or it doesn't work. This isn't necessarily true of other genres. I can paint a landscape and be completely indifferent about it. But when I paint an abstract painting, I have to be all in.
I think THIS is what scares us the most about abstract painting. We have lost our creative voice along the way and we don't know where to find it. We don't even know how to find our creative voice because it requires quiet and slowing down to listen. And we are a culture addicted to busy. It can be extremely uncomfortable to get quiet.
I believe that it was Sabrina Ward Harrison who said that we paint the thing that we need the most. I believe this to be true in my life. During certain seasons, I feel the need to paint different types of paintings. For example, I feel the need to paint with a lot of white paint and negative space at the moment. I want light whispers and delicate lines. I think that this is because I want to give myself room to breathe and heal. But a year ago, I wanted to paint with a whole bunch of dark colors because I was looking for something to ground myself. If I don't listen to the thing that is calling me forward, then I won't have an emotional connection with my art.
I would suggest that if abstract painting hasn't worked for you, it might be because you only have ever copied someone else's expression or process. You have missed the most important part of abstract painting, a deep emotional connection to your work. And I want to help you find your emotional connection!
During this course, I want to model for you how you can make this emotional connection in order to make your most important work. It's about pursuing a feeling, not ever arriving, but loving the process.
Are you all in?
Join me for... Deeper Still: An Invitation to Abstract Painting
This course will have two different parts. The first part will be full of meaningful questions and prompts that will be designed to help you make an emotional connection to your abstract painting. I will be sharing tons of examples from my own creative journey. The second part will be the modeling/ technique portion of the course where I create some abstract paintings that I feel drawn to paint during this season of my life.
The technique portion of this course will explore transparency, movement and light. These three elements will be the focus of this class.
Covered in this course will be:
how to layer transparent color to create dimension
messy. and loose mark making
how to create movement in your abstract mark making
how do you develop your own visual vocabulary
tips on how to self correct when a painting isn't working
composition guidelines
lots of messy abstract play!!!
Materials and Supplies
Aquabord
Canvas paper
Watercolor canvas
Mixed media paper
Watercolors
Acrylic paint in high flow and heavy body
Gel pens (especially white)
Favorite mark making tools (pastels, nupastels, inktense pencils, acrylic markers, neocolor ll...)
Acrylic inks
Paint brushes
Palette paper
Watercolor palette
Glazing medium for acrylics
Tissue paper
Matte medium
*Please note: you don't need every single one of these supplies to participate in the course. Use your favorite art supplies.
Your Instructor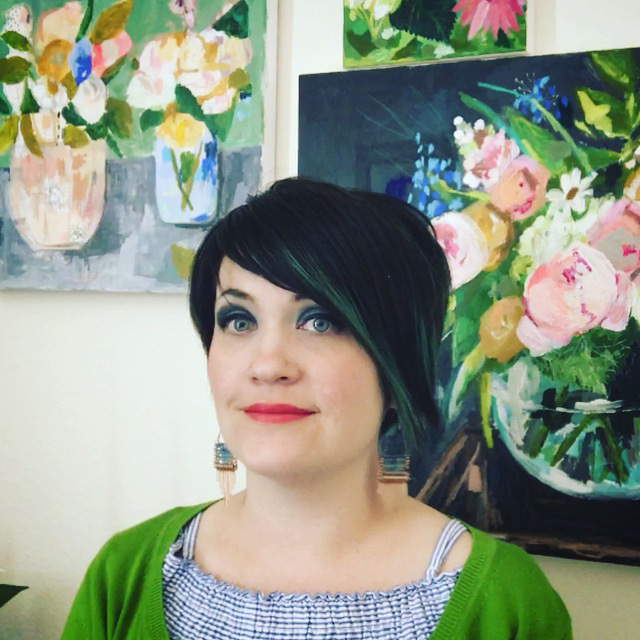 My name is Wendy Brightbill and I am somewhat of a creative wanderer, an artist who enjoys exploring a multitude of mediums and styles. I love messy child-like play especially when it involves paint. I picked up a paintbrush after a car accident rearranged my brain from a closed head injury. I believe that there is healing to be found in art making and getting lost in the process. I try not to treat my art as being too precious, and yet, I am deeply committed to my daily creative practice. Art making is a little like breathing air for me. I can't live without it. I am also a mother to three beautiful girls and a wife of 17 years to my biggest cheerleader. I have lived in Colorado for all of my life. All I ever needed to know, I learned from being a kindergarten teacher for four years. I just turned forty and I am finding this new found super power of saying no to the things that don't bring me joy or peace.
Course Curriculum
Welcome
Available in days
days after you enroll
Inner Workings
Available in days
days after you enroll
Process Videos
Available in days
days after you enroll
Frequently Asked Questions
When does the course start and finish?
The course starts April 27, and never ends! It is a completely self-paced online course - you have unlimited access!
How long do I have access to the course?
How does lifetime access sound? After enrolling, you have unlimited access to this course for as long as you like - across any and all devices you own.
Are you all in? Join me!!!